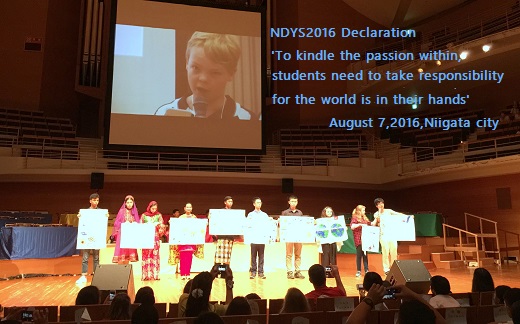 Students announced the NDYS2016 Declaration at the Kotolympic, Niigata City
on August 7, 2016.
Students and Teachers Gather for the Natural Disaster Youth Summit and Kotolympic, iEARN Taisho Koto Project in Niigata, Japan
iEARN News & Events: Sep 6, 2016 Read More
Natural Disaster Youth Summit 2016 in Niigata

Theme:
Climate Change and "Disaster Reduction , Mitigation, and Reconstruction" in our town

~Abnormal weather : Solve the problem by global collaboration!~

NDYS2016 Declararion
100 Participants from 10 Countries and Regions
Islamic Republic of Iran,

India

, Republic of Indonesia,
People's Republic of China, Republic of Colombia
Commonwealth of Australia, Republic of Turkey
The United States of America, Taiwan , Japan
*The hand book of NDYS2016 in Niigata
Natural Disaster Youth Summit 2016 in Niigata had a successful gathering ! Thank you for your cooperation.
S

tudents and teachers from more than 10 countries and regions united together in Niigata to present their studies on Natural Disasters.

961 taisho koto lovers and audience members from Japan participated in the event as well.
| | |
| --- | --- |
| Dates | Wednesday 3 –Monday 8 August 2016 |
iEARN projects connect youth to change the world! See how iEARN projects align with the UN Sustainable Development Goals to improve the quality of life on the planet.
iEARN Workshop Tokyo2016
〜Global Active learning〜
Learning for the 21st Century
Date: March 29, 2016
Venue: National Institute for Education Policy and Research, Japan
Host: 

NPO

JEARN (iEARN-Japan)

     


 
| | |
| --- | --- |
| | Slogan: "Communication saves lives! " |
Empowering Youth
NDYS2016 E-Report
PDF(26,5MB)

・Disaster Safety maps
・NDYS2016 in NIIGATA
3-8 August Summary
・NDYS2016 Declaration

(56pages)

Click here to download
"NDYS2016 E-Report"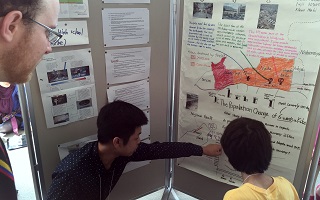 Exhibition: NDYS2016 in NIIGATA
●

At the conference venue of NDYS2010 in Turkiye,
We corrected the donation for Pakistan.


We will soon announce the amount of donation from participants of NDYS2010.
We are also welcome your donation to Pakistan.
2010.8.23-28

●

iEARN Students in the Natural Disaster Youth Summit project help build kitchens in schools in Haiti.

iEARN students in the UK and Japan have teamed up with an organization called FATEM in Haiti to help build and staff kitchens in local schools. 2010.8.24
Read

More >

●

The

NDYS members in Trinidad and Tobago have also created an account for donations.

They will work with UNICEF focus on health and trauma issues in assisting Haitians recover from this tragedy by creating a trauma center. 2010.4.26


Read

More >

Building for the Global Disaster Reduction Education Network