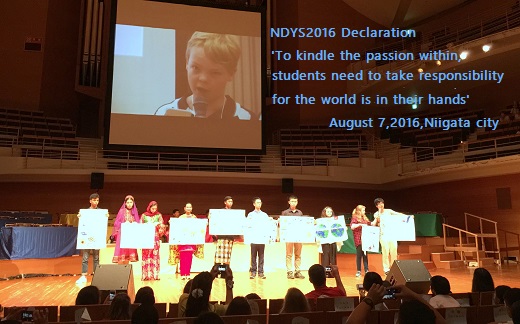 Students announced the NDYS2016 Declaration at the Kotolympic, Niigata City
on August 7, 2016.
The NDYS committee hosted "Natural Disaster Youth Summit 2016 in Niigata" on August 3-8.
The NDYS2016 meeting had an opportunity to present the results the final phase of the NDYS2016 project under the theme of "Climate change and Disaster Reduction, Mitigation and Reconstruction" in our town" through global collaborative Active-learning utilizing ICT. 

Read More

Dates

Wednesday 3 –Monday 8 August 2016

Participants
100 participants from 10

countries and regions

Islamic Republic of Iran,

India

, Republic of Indonesia
People's Republic of China, Republic of Colombia
Commonwealth of Australia, Republic of Turkey
The United States of America, Taiwan , Japan


Host

NPO

JEARN

Natural Disaster Youth Summit Committee


co-Host

Taisho Koto Niigata Tomonokai nai Kotolympic2016 in Niigata Committee

iEARN Taisho Koto Project Committee

Special Cooperation

Cabinet Office,

Government of Japan

 

The Ministry of Foreign Affairs [MOFA]

The Ministry of Education, Culture, Sports, Science and Technology [MEXT]

Niigata Prefecture,

Hyogo Prefecture

, Niigata city

Education committee of Niigata Prefecture

Education Committee of Niigata city

Japan Association for Promotion of Educational Technology (JAPET & CEC)

Venue

NSG College League Gakusei sogo Plaza STEP
Niigata cty Geijutu Bunka Kaikan Ryutoia Concert Hall
| | |
| --- | --- |
| | At the 2016 summit, the NDYS project joined with the Taisho Koto music project for exploring the power of music for healing after disaster.​ The summit coincided with the 64th Niigata City Art Festival​ "Kotolympic 2016 in Niigata". |
iEARN-Brasil (Educadores Globais) will host the 2015 iEARN Conference and Youth Summit in Brasilia, Brazil, July 26-31, 2015 - all are invited to attend!
Read More >
JEARN NDYS team will make a oral presentation about '"Climate Change and Disaster Reduction" on July 30.
March 15, 2015, the video of the Natural Disaster Youth Summit 2015 in Toyota has aired, along with the motto of ''Disaster Reduction Education links the World'

in the public forum, which is an associated event of the third "UN World Conference on Disaster Risk Reduction 2015 Sendai Japan" ( ESD chief executive from UNESCO headquarters also participated as a panelist)",
●

At the conference venue of NDYS2010 in Turkiye,
We corrected the donation for Pakistan.


We will soon announce the amount of donation from participants of NDYS2010.
We are also welcome your donation to Pakistan.
2010.8.23-28

●

iEARN Students in the Natural Disaster Youth Summit project help build kitchens in schools in Haiti.

iEARN students in the UK and Japan have teamed up with an organization called FATEM in Haiti to help build and staff kitchens in local schools. 2010.8.24
Read

More >

●

The

NDYS members in Trinidad and Tobago have also created an account for donations.

They will work with UNICEF focus on health and trauma issues in assisting Haitians recover from this tragedy by creating a trauma center. 2010.4.26


Read

More >

Building for the Global Disaster Reduction Education Network