Delegates recited the declaration in English, Japanese, Spanish, Surinamese, Turkish at the Summit.
Japanese:

Translated by Gento Kato, Kobe-Japan
Spanish:
"La Cumbre de Jenes por los Desastres Naturales en Puerto de Espa 2008 declara que
Como una comunidad global resolvemos crear una red de conocimiento para la mitigacion de desastres naturales y para la adaptaci al cambio clim疸ico global, por tal motivo forjamos fuertes lazos entre jenes y profesionales, como as・tambi駭 para integrar a todos los pa﨎es en una comunidad internacional que comparte el mismo objetivo"Una comunidad, Un solo esfuerzo, EL MOMENTO DE ACTUAR ES AHORA"
Translated by Sergio Daniel Paz,Salta-Argentina
Turkish.
BİZLER, NDYS ワYELERİ OLARAK, BU YILKİ
"ULUSLARARASI DOĞAL AFETLER GENヌLIK ZIRVESI, PORT OF SPAIN- 2008"
BILDIRGEMIZI TワM DワNYAYLA PAYLAŞMAKTAN BワYワK MUTLULUK DUYUYORUZ:
"D・ya K・esel Bir Kd・" kavramı 軻r軻vesinde; gen輙eri, uzmanları ve t・ d・ya ・kelerini uluslararası bir ortaklığa davet ediyoruz.
Doğal afet risk yetimi, k・esel iklim değişikliklerine uyum ve lem konularında ortak bir bilin・oluşturmalıyız. Ortak hedefimiz: TEK BİR KヨY, TEK BİR ヌABA. ŞİMDİ HAREKETE GEヌME ZAMANI! "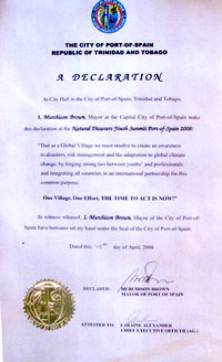 With the Compliments of His Worship the Mayor of Port of Spain